OTHER
Ammar Abd Rabbo participates in 'The sea is my land. Artisti dal Mediterraneo' at the MAXXI, Rome
4 July 2013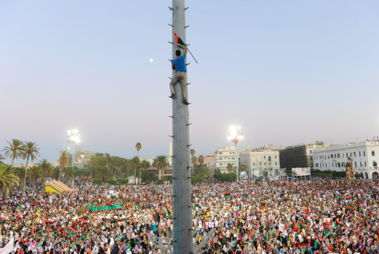 Ayyam Gallery is delighted to announce the participation of Ammar Abd Rabbo in the group show the sea is my land. Artists from the Mediterranean at the MAXXI (the National Museum of the Arts of the 21st century) in Rome from 4 July - 29 September 2013.
Organised by BNL BNP Paribas Group, the exhibition focuses on the Mediterranean, envisaged not only as a geographical area but a crossroads connecting different civilisations. The project is curated by Francesco Bonami and Emanuela Mazzonis and brings together photography and video art by 22 artists from 22 countries bordering the Mediterranean Sea. The exhibition aims to use the universal language of images to highlight the incessant metamorphosis of the Mediterranean, an area of cultural dialogue where the impartiality of art has the power to overcome social barriers, religious pluralism and ethnic dispersion, and foster peaceful communication among all those concerned.
Considered one of the Arab world's most important photojournalists, Syrian artist Ammar Abd Rabbo will show eight photographs inspired by the exhibition's theme. This selection includes photographs that were taken in Syria, Libya, Lebanon, Morocco, and Mecca. Over the course of his career, Abd Rabbo has amassed a portfolio documenting some of the most significant cultural and political events of the last 20 years and his work has featured in some of today's leading publications, from Time Magazine to Der Spiegel. Often capturing his subjects in rarely-seen moments of rest or reflection, his works have been praised for their arresting intimacy and humanity. As a photojournalist, he has covered major conflicts in Iraq, Lebanon and Libya, and has captured images of environmental catastrophes such as the flooding which afflicted New Orleans following 2005's Hurricane Katrina.
In addition to his work being exhibited, Abd Rabbo was asked to choose an inspiring text for the official exhibition catalogue; Abd Rabbo selected poems by the Syrian poet Nizar Qabbani (1923-1998), whose work combines simplicity and elegance in exploring themes of love, eroticism, feminism, religion, and Arab nationalism.
An international jury comprising Giovanna Bertazzoni (Head of the London Impressionist and Modern Art Department, Christie's), Daniel Birnbaum (Museum Director, Moderna Meseet Stockholm), Cristiana Collu, Director of MART (the Contemporary Art Museum of Trento and Rovereto) and Gregor Muir (Executive Director, Institute of Contemporary Arts, London), will review the works on show by participating artists – around 150 pieces in total – assessing their originality and artistic merit. The winning work will be purchased by BNL BNP Paribas Group, becoming part of its permanent collection and artistic heritage. The Bank's collection currently boasts around 5,000 works that include classical and modern masterpieces as well as works by talented young contemporary artists.
Born in Damascus in 1966, Ammar Abd Rabbo lived in Libya and Lebanon, before moving to France in 1978. Solo exhibitions have include Ayyam Gallery Beirut (2012); Ayyam Gallery Dubai (2012); and a retrospective at Centre Culturel Francais de Damas (2011). In 2001, Abd Rabbo published a book featuring photographs of concerts by the French musician Jean-Michel Harre.