AMERSFOORT, THE NETHERLANDS
Sadik Kwaish Alfraji
Museum Flehite
2 October 2021 | 21 November 2022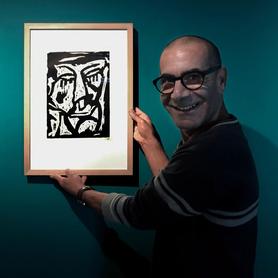 We are proud to share that Sadik's solo exhibition 'Bagdad - Amersfoort' at Museum Flehite, Amersfoort, is now open for the public. The exhibition will be up until November 21, 2022.⁠⁠
⁠⁠
Curated by Onno Maurer, the exhibition showcases over a hundred selected drawings, etchings, woodcuts, and paintings, covering Sadik's career spanning from the 1980s to the 2000s. ⁠⁠It houses more than 100 etchings, woodcuts, drawings, and paintings from the 1980s that deal with, among other things, the war between Iraq and Iran, but also themes such as love and freedom.
Museum Flehite shows the etchings and drawings that Alfraji made in Iraq in the 1980s, in which he exposes the violent conflict with neighboring Iran. At the time, in Saddam Hussein's Iraq, the figurative style that the artist uses was too confrontational to show.