OTHER
Sama Alshaibi
Guggenheim Fellowship
2021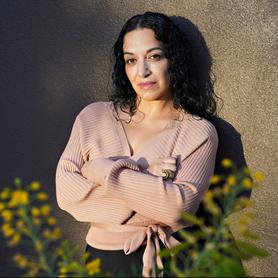 Sama Alshaibi was awarded the 2021 Guggenheim Fellowship, long considered one of the most important grants series in the art world and the humanities and sciences at large.
"A standing ovation for the 2021 Fellows in the Creative Arts. Through their writing, filmmaking, painting, sculpting, photography and beyond, these artists are exploring subjects including rising water levels, architectural markers of segregation, and legacies of immigration."⁠⁠
About the artist
Situated within natural environments, Sama Alshaibi's multimedia work explores spaces of conflict and the power struggles that arise in the aftermath of war and exile. Alshaibi is particularly interested in how such clashes occur between citizens and the state, creating vexing crises that impact the physical and psychic realms of the individual as resources and land, mobility, political agency, and self-affirmation are compromised.
Through performance, video, photography, and installation, Alshaibi positions her own body as an allegorical site that makes the byproducts of war visible. Though the artist uses her own body as the subject of the images, she does not consider the works to be self-portraits. By using elements of her experiences, anxieties, and curiosities, the artist is able to embody different characters that perform various issues, people and concepts.
Born in Basra to an Iraqi father and a Palestinian mother, Sama Alshaibi is based in the United States where she is Chair and Associate Professor of Photography and Video Art at the University of Arizona, Tucson. Alshaibi holds a BA in Photography from Columbia College and an MFA in Photography, Video, and Media Arts from the University of Colorado. She was a recipient of the Fulbright Scholar Fellowship in 2014 as part of a residency at the Palestine Museum, where she developed an educational program while conducting independent research.
Recently, Alshaibi has featured in solo and group exhibitions at Artpace, San Antonio, Texas (2019); Cairo International Biennale (2019); Pen + Brush, New York (2019); Ayyam Gallery, Al Quoz, Dubai (2019, 2018, 2015); Arizona Biennale, Tucson Museum of Art, Tucson, USA (2018); American University Museum, Washington (2018, 2017); Beirut Spring Festival, Beirut, Lebanon (2018); Palazzo Granafei- Nervegna, Brindisi (2017); Tuscon Museum of Art, Arizona (2017); Johnson Museum of Art, New York (2017); Center for Curatorial Studies at Bard College, New York (2017); Marta Herford Museum, Herford (2017); Museum De Wieger, Deurne (2017); Brentwood Arts Exchange, Maryland (2017); Honolulu Biennial, Honolulu (2017, 2014); Scottsdale Museum of Contemporary Art, Arizona (2016); Desai Matta Gallery - the California Institute of Integral Studies, San Francisco (2016); FotoFest, Houston (2016, 2014); Pirineos Sur Festival, Lanuza (2015); Palais De La Culture, Constantine (2015); Ayyam Gallery, London (2015); Arab American National Museum, Dearborn (2015); the Maldives Pavilion of the Venice Biennale (2013); University of Southampton, Southampton (2013); Edge of Arabia, London (2012); HilgerBROTKunsthalle, Vienna (2012); Institut Du Monde Arabe, Paris (2012); Maraya Art Centre, Sharjah (2012); and Museum of Modern Art, New York (2012).
Alshaibi's works are housed in public and private collections, including the Nadour Collection; The Museum of Fine Arts, Houston, Texas; Barjeel Art Foundation, Sharjah; Museum of Modern and Contemporary Art, Tunis; Light Work Collection, Syracuse; University of Illinois, Chicago; University of Colorado Art Museum, Boulder; The Photo Archive of the Getty Research Institute, Los Angeles; and the C.N. Gorman Museum at the University of California, Davis.
In 2015, Aperture Foundation published Alshaibi's first monograph, Sand Rushes In.