ABU DHABI, UAE
Abu Dhabi Art Fair 2020
Collective Representation - The Trajectory
19 - 26 November 2020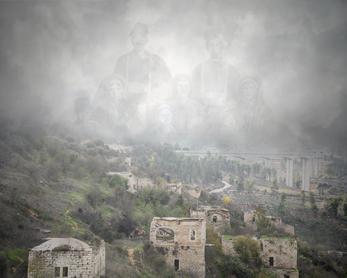 Ayyam Gallery is pleased to announce its participating in Abu Dhabi Art's virtual 2020 edition. The Trajectory, is a collective representation featuring works by Rula Halawani, Sadik Kwaish Alfraji, Safwan Dahoul, and Sama Alshaibi.
The works chosen for this edition of Abu Dhabi Art express identity's continuity through strong ties with the past. Sama and Rula integrate old photographs and photographic techniques in their new projects, which hone on identity, and displacement.
In For You Mother, Rula uses archival photographs of Palestinian families and collages them on landscape photographs she's taken; meanwhile, in Carry Over, Sama critiques the way orientalist photographers depicted the Middle Eastern woman by mimicking their patterns and techniques.
Safwan and Sadik, on the other hand, have worked through identity's longevity their whole careers through their own narrative and protagonists.