SANTA FE, NEW MEXICO
Sama Alshaibi
2019 Review Santa Fe Photo Festival
17 October - 20 October 2019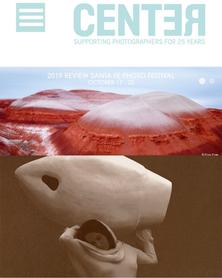 The Review Santa Fe Photo Festival is a unique expo/exhibition style format displaying the work of 100 documentary and fine art photographers with a lively evening of discussions between artists and attendees.
This year, Sama Alshaibi was a featured speaker, where she spoke about her newest project that was selected for the Center's Project Development Grant earlier this year. Carry Over recalls and subverts historical portraits that featured MENA women carrying vessels of water on their head while lounging with other "Oriental" props.
"I'm interested in the societal impact of unequal power relations between the West and the Middle East, and how that domination is articulated through photographs. By using Albumen, Photogravure and Gum historical printing processes of the late 19th and early 20th century in my project Carry Over, I am evoking a near century in which the West controlled the Middle East and North Africa. Photography studios were largely run by Western 'Orientalist' photographers, who fashioned a fantasy of the unknown 'oriental' woman by framing her as either a naked, exotic other or a primitive, pious unknown hiding behind a veil."
- Sama Alshaibi
Read more about the festival on their website. https://visitcenter.org/