OTHER
Artist Talk: Sama Alshaibi at Columbia University School of the Arts
28 September 2018 | New York City, USA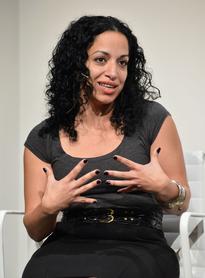 Sama Alshaibi will be participating in the round table discussion at Lenfest Center, Columbia University School of the Arts, New York City, on 28 September 2018, from 3 – 4:30 pm.
Under the title What We Can Do When There's Nothing To Be Done -Strategies for Change, Columbia celebrates their 10 year existence for the Center of the Study of Social Difference and the 5 year existence of their Women Creating Change initiative founded by the center.
The conference aims at bringing together scholars, artists, and practitioners from around the globe whose work can inspire new ways of thinking, seeing and listening and productive strategies of intervention for our time.
Under the topic Arts of Intervention Sama Alshaibi will be discussing her insight together with Ricardo Dominguez, Jeanine Tesori, Sama Alshaibi, Saidiya Hartman and moderator Carol Becker.