OTHER
Sama Alshaibi at Arizona Biennial 2018
5 July - 16 September 2018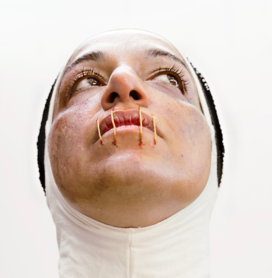 Sama Alshaibi will be part of the Arizona Biennial 2018, contributing two of her photographs titled Obverse Discursive, 2016 and Arabic and Cuneiform: To Read and Write, 2016 that highlight her ongoing research of conflict and the power struggles that arise in the aftermath of war and exile. This years Arizona Biennial spans from July 5 to September 16, 2018 and is hosted at the Tucson Museum of Art and Historic Block, curated by guest juror Rebecca R. Hart from the Denver Art Museum.

The Arizona Biennial is the oldest running state-wide juried exhibition featuring exclusively Arizona artists. Alshaibi who is the Chair and Professor of Photography and Video Art at the University of Arizona, USA will be participating for the first time at the Arizona Biennial.
Image: Sama Alshabi, Obverse Discursive, 2016, courtesy of the artist.