OTHER
Ayyam Gallery at Art Dubai 2018
20 - 24 March 2018 | Booth D10, Madinat Jumeriah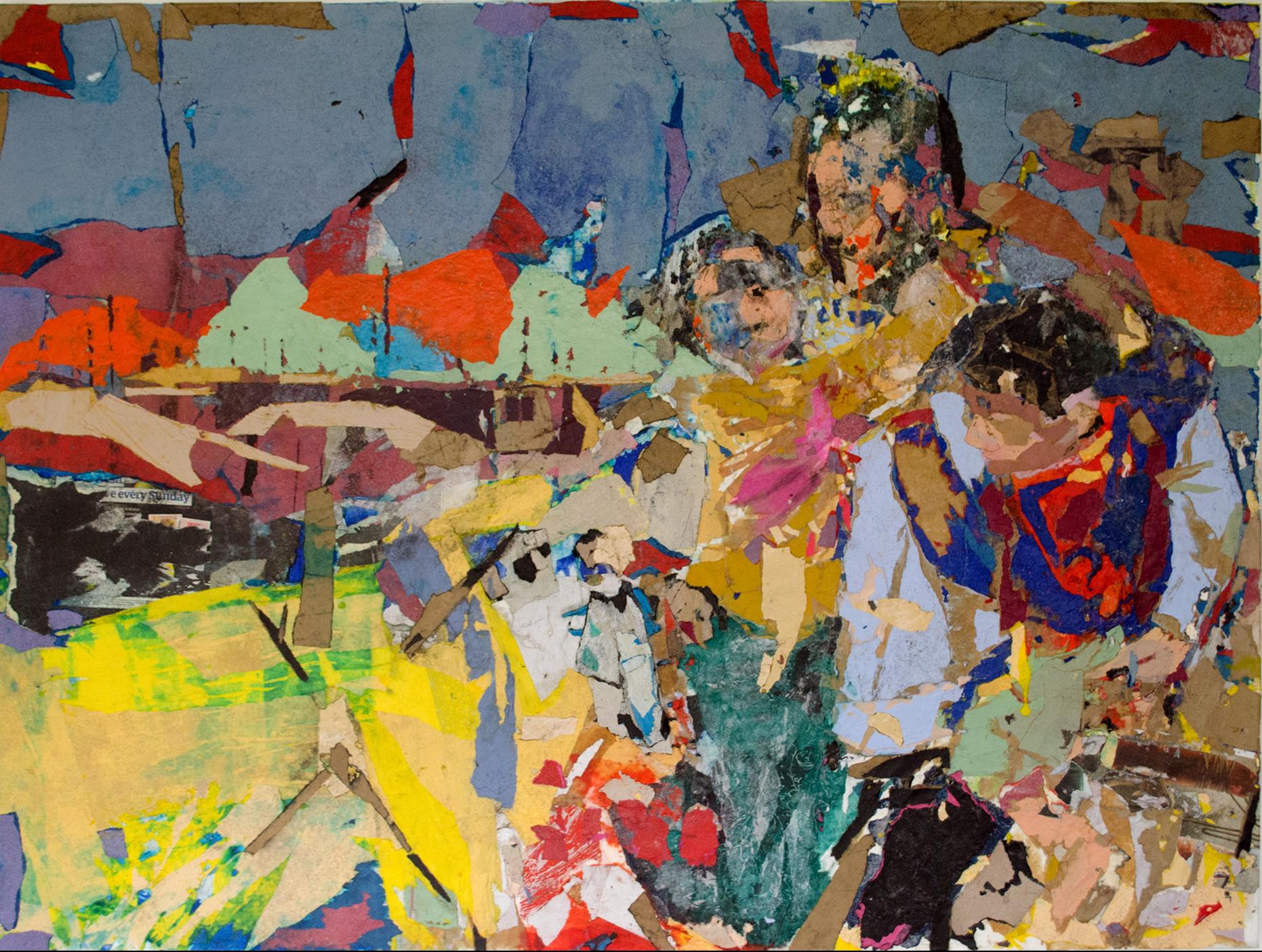 Ayyam Gallery is pleased to present works by Tammam Azzam from his Paper series at the 2018 edition of Art Dubai. In this body of work, Azzam introduces the use of paper collage - a method new to his practice.
About the Show
In Paper series Azzam further explores spatial dimension and the idea of spatialism, while simultaneously considering the role they play within each work. Inspired by the narratives of people through their experiences and connections to their surroundings, the artist uses intricate detail and layering of paper pieces to create depth within each field of sight. By allowing the works to explore lines and their infinite character they are able to create their own position in space. The tactile nature of these vibrant works amplifies images of cities and citizens in startling ways, while the scenes appear to crumble in real time due to the coarse layers of paper fragments that the artist applies to his canvases.
Specific shapes and symbols have been recurring in the works - Azzam takes these shapes as a point of departure, searching for a space that each shape represents, whether physical, tied to a specific geographical location, or abstract.
Earlier works from the Paper series have been exhibited at the City Museum of Oldenburg (Stadtmuseum Oldenburg) (2017) and 2017 Armory Show in New York. The works being shown at Ayyam Gallery's booth at Art Dubai are all new works, being shown for the first time.
About the Artist
Tammam Azzam received his artistic training from the Faculty of Fine Arts, University of Damascus with a concentration in oil painting. Alongside a successful career as a painter in Syria, Azzam was a prolific graphic designer, an experience that would inform his digital media work after relocating to Dubai.
Azzam has contributed to large-scale international exhibitions such as the ZFotoFest, Istanbul (2018); FUU-Street Art Festival, Sarajevo (2015); Vancouver Biennale, where he was in residence (2014); FotoFest Biennial (2014), Houston; Dak'Art: Biennial of Contemporary African Art, Dakar (2014); Alexandria Biennale (2014); and the 30th Biennial of Graphic Arts, Ljubljana (2013).
In recent years, Azzam has participated in solo and group exhibitions at such venues as Künstlerforum Bonn, Germany (2017); For-Site Foundation, San Francisco (2017, 2016); European Capital of Culture-Pafos, Pafos, Cyprus (2017); City Museum of Odenburg, Germany (2017); Künstlerverein Walkmühle, Germany (2016); Columbia University, New York (2016); Tainiothiki Twixtlab, Athens (2016); Ayyam Gallery, Dubai (2016); Banksy's Dismaland, Weston-super-Mare, United Kingdom (2015); Fondazione Giorgio Cini, Venice (2015); Framer Framed in de Tolhuistuin, Amsterdam (2015); Forum Factory, Berlin (2014); Lena & Roselli Gallery, Budapest (2014); Liquid Art House, Boston (2014); Rush Arts, New York (2014); Busan Museum of Art, Seoul (2014); 1x1 Art Gallery, New Delhi (2014).
In 2016, Azzam received an artist fellowship at the Hanse-Wissenschaftskolleg Institute for Advanced Study in Delmonhost, Germany.
Exhibition Facts
Exhibitions Dates: 20 - 24 March 2018
Opening times:
Tuesday, 20 March 3.00 - 9.30 pm (invite only)
Wednesday, 21 March from 4.00 - 9.30 pm (invite only)
Thursday, 22 March from from 4.00 - 9.30 pm
Friday, 23 March from 2.00 - 9.30 pm
Saturday, 24 March from 12.00 - 6.30 pm
Location: Booth D10, Madinat Jumeriah