OTHER
Farzad Kohan at Coagula Curatorial
The Abstract Power Show
4 – 14 January 2018 | Los Angeles, California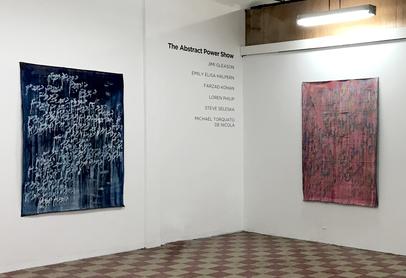 Farzad Kohan in presented in The Abstract Power Show at Coagula Curatorial in Los Angeles. The exhibition is the first of the gallery's New Curator Series taking place throughout the winter and spring of 2018.
The show brings together six Los Angeles artists who each delve and divulge into various operational modes of abstraction.
Showing two new works from his latest series, the paintings explore themes like love, migration, and identity. Partially inspired by his personal history and surroundings, Kohan places an emphasis on form, allowing the successive stages of art making to become analogous to diasporic experience, as diverse, sometimes opposing, elements are sampled, brought together, and accumulated. These apparent stages, along with text, are integral parts of each finalised work.
Kohan is presented alongside Jimi Gleason, Emily Elisa Halpern, Loren Philip, Steve Seleska, and Micahel Torquato De Nicola.
Coagula Curatorial is a premiere exhibition space of contemporary art located in the historic Chung King Road of contemporary art galleries in Downtown Los Angeles' Chinatown.
Image: Installation view courtesy of the artist.