OTHER
Khaled Jarrar at Whitechapel Gallery
Palestine Now: Documents of a Disappearance 1917-2017
4 November 2017 | Whitechapel Gallery, London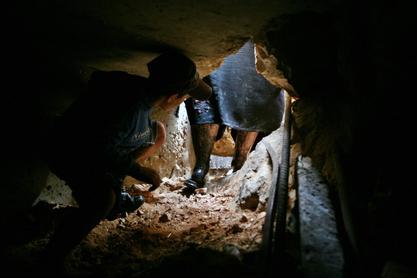 Khaled Jarrar's film Infiltrators (2012) will be screened at Whitechapel Gallery as part of Palestine Now: Documents of a Disappearance 1917-2017, a day-long event tracing the legacy of colonialism through films, readings, and special guest presentations. The day aims to give a perspective on anticolonial resistance past and present, culminating in a discussion of questions of responsibility and the role of the imagination in creating a shared future.
Jarrar's 70-minute documentary fittingly unravels adventures of various attempts by individuals and groups during their search for gaps in the Wall in order to permeate and sneak past it. Lookouts, fear, angst, running, permeation, jumping off, crawling, passing through dark passages, are stages of a complex process of passing through to the 'other side' and require a very specific state of mind.
Sessions feature writers Ghada Karmi, Karma Nabulsi, artist Larissa Sansour, among others, as well as a screening of Jocelyne Saab's Beyrouth, Ma Ville (1982).
Image: Still from Infiltrators, 2012, documentary, 70 mins.