OTHER
Farzad Kohan's award winning public mural
Humanity
September 2017 | Los Angeles, California, USA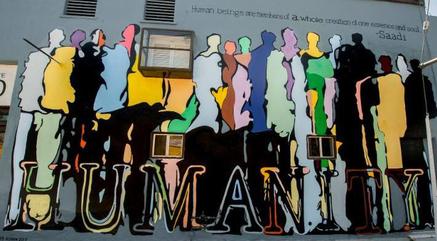 Farzad Kohan presents his mural Humanity in Los Angeles as the first winning design installation of the Iranian Mural Design Competition by Farhang Foundation in collaboration with Beautify Earth.
In Humanity, Kohan portrays a written message of unity from Iranian poet Saadi Shirazi, shedding light on common grounds shared by people from around the world and how these similarities outweigh the differences.
In 2016, Farhang Foundation worked with Beautify Earth to launch an international mural design competition open to artists worldwide, inviting them to submit concepts that highlight aspects of Iranian culture. Kohan's proposal was chosen from 100 submissions.
Kohan's work is located at the intersection of Overaland Avenue and Charnock Road, in the Palms neighbourhood of Los Angeles.
Image courtesy of the Farhang Foundation