OTHER
Khaled Jarrar
Lines Drawn
22 September - 18 November 2017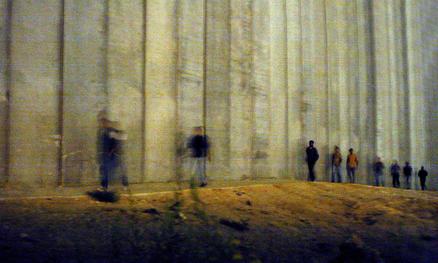 Khaled Jarrar's Infiltrators (2012) will be presented in Lines Drawn at DiverseWorks, Houston from 22 September - 18 November 2017. The group exhibition, which features artists such as Mariam Ghani, Pedro Lasch, and Henry G. Sanchez, explores how artists reimagine, disrupt, and question received notions of borders and boundaries.
Lines Drawn also offers a forum to consider how the complexities and controversies of our time can be addressed through art. The project includes an exhibition of prints, zines, video, and installation work; zine and poster making workshops; and live performances, readings and public conversations.
Jarrar's 70-minute documentary fittingly unravels adventures of various attempts by individuals and groups during their search for gaps in the Wall in order to permeate and sneak past it. Lookouts, fear, angst, running, permeation, jumping off, crawling, passing through dark passages, are stages of a complex process of passing through to the 'other side' and require a very specific state of mind.
Founded by artists in 1982, DiverseWorks is known for its groundbreaking programming. DiverseWorks commissions, produces, and presents new and daring art in all its forms through innovative collaborations that honor each artist's vision without constraint.