BEIRUT
Khaled Jarrar at Kunstraum Niederösterreich
Performing the Border
2 June - 22 July 2017 | Vienna, Austria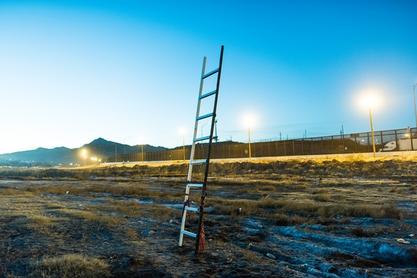 Khaled Jarrar is featured among a roster of international artists this summer in Performing the Border, a multimedia exhibition that explores the physical and psychic spaces of borderlands. Curated by Jana J. Haeckel and Petra Poelzl for the Kunstraum Niederösterreich in Vienna, Austria, the exhibition highlights works that disrupt the precarious nature of borders or contested territories, and includes Mona Al Qadiri, Tiffany Chung, and Francis Alÿs, among others.
Jarrar is represented with Khaled's Ladder (2016), a short documentary of a performance and site-specific work he created along the U.S.-Mexico border. Repurposing metal from a border fence in Juarez, Mexico—a city plagued by violence and abject poverty—Jarrar fashioned a large ladder that imagines a means of uniting divided communities, allowing free movement between the U.S. and Mexico. In the video, Jarrar is shown discussing the installation with locals, including Mexican border patrol agents, who are receptive to his project.
The performance was part of a larger initiative organised by Edge of Arabia's CULTURUNNERS, which brought Arab artists to the United States in a series of in partnerships with various art institutions and non-profits.
Performing the Border opens 2 June, and will be on view until 22 July 2017.
Image: Photo by John Mireles, courtesy of Culturunners.