OTHER
Sadik Kwaish Alfraji at Lemvig Museum
TIME, SITE & LORE
11 April - 6 May 2017 & 1 - 10 September 2017 | Lemvig, Denmark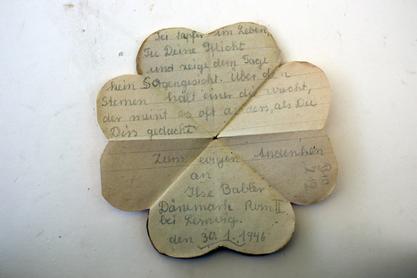 Sadik Kwaish Alfraji has been invited to participate in Meetings, a video and performance project that will be on view at institutions throughout rural Denmark. The project is organised by ET4U, an artist run association in Western Jutland, the large peninsula that contains the mainland of the country.
ET4U asked five artists to respond to an object or work of art in specific sites. Alfraji was in residence at the Lemvig Museum, where he briefly researched its collection. There, he chose an autograph book from the refugee camp in Rom that was created by a displaced German girl during World War II.
A work in progress, Alfraji will exhibit his video response at the Lemvig Museum from 11 April until 6 May during the Off Road Festival, which links 50 individual events across this particular region of Denmark. Alfraji will show his completed work in September as part of the Meetings Festival.
Image: Sadik Kwaish Alfraji, War Scraps at Lemvig Museum, 2017, work in progress