OTHER
Tammam Azzam at the 2017 Armory Show
2-5 March 2017 | New York, USA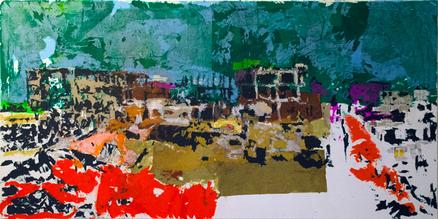 Tammam Azzam is participating in the 2017 Armory Show in New York with a selection of works from his recent Paper series—paper collages that depict devastated cities in Syria. Azzam is highlighted by Haines Gallery, San Francisco, one of the Bay Area's leading art spaces.
The Armory Show is on view from 2–5 March at Piers 92 & 94 in Manhattan and features international galleries in addition to special programmes and events.
Azzam's Paper series was also recently exhibited at the City Museum of Oldenburg (Stadtmuseum Oldenburg) in Germany.
Image: Tammam Azzam, Untitled, Paper series, paper collage on canvas, 100 x 200 cm