OTHER
Sadik Kwaish Alfraji at Maraya Art Centre in Sharjah
Once Upon A Time: Hadiqat Al Umma
4 March - 6 May 2017 | Sharjah, UAE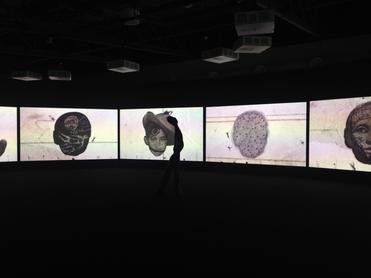 Sadik Kwaish Alfraji will debut a new multimedia art installation at Maraya Art Centre on 4 March. Curated by Laura Metzler and Dr. Alexandra MacGlip, Once Upon A Time: Hadiqat Al Umma includes a series of video animations that are projected onto nine screens, creating an immersive environment in which the viewer is transported to Baghdad's Hadiqat Al Umma, a popular park that is a central fixture in the artist's memories of his homeland. Alfraji's video works show him as a young boy surrounded by its monuments and other images from the park. A mixture of nostalgia and bittersweet sorrow permeate the gallery space as the videos are paired with the melancholic rhythms of classical Arabic music.
Alfraji will be in conversation with Barjeel Art Foundation curator Mandy Merzaban on 4 March at 5pm shortly before the opening of the exhibition. Once Upon A Time: Hadiqat Al Umma is on view until 6 May and coincides with the artist's Season's of Lost Baghdad, a new body of work commissioned for Ayyam Gallery at Art Dubai 2017.
Image: Installation view, Sadik Kwaish Alfraji, Once Upon A Time: Hadiqat Al Umma, 2016, Animation frame drawing, charcoal on paper, 27 x 48 cm. Photo courtesy of Maraya Art Center.