OTHER
Sama Alshaibi in the 2017 Honolulu Biennial
Middle of Now | Here
8 March - 8 May 2017 | Honolulu, Hawaii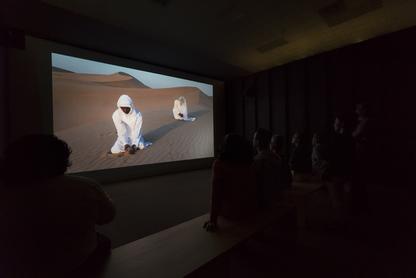 Sama Alshaibi is included in the 2017 Honolulu Biennial, which opens on 8 March with a lineup of artists working in a variety of media from North America, the Pacific Islands, Australia, and New Zealand. Curated by Mori Art Museum's Fumio Nanjo and Ngahiraka Mason, former Curator of Indigenous Art at Auckland Art Gallery Toi o Tāmaki, this Pacific-oriented event will highlight established and emerging artists at venues throughout the Hawaiian capital until 8 May.
Alshaibi will be represented with Wasl (Arabic for 'Union') (2017) a recent work from her Silsila series, a multimedia project that she began in 2009. According to the artist, Wasl describes the processes of 'purification, transcendence, renewal, and ecological co-existence...the video presents water as a symbolic erasing of borders between nations and people.'
Image: Installation view, Sama Alshaibi, Wasl (Union), Silsila series, 2017, video, 9 minutes, photo courtesy of Honolulu Biennale.