OTHER
Art Dubai 2017
Sadik Kwaish Alfraji: Seasons of Lost Baghdad
15 - 18 March 2017 | Booth D9, Madinat Jumeriah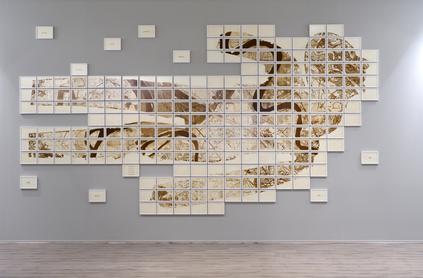 Ayyam Gallery is pleased to present Sadik Kwaish Alfraji's Seasons of Lost Baghdad at the 2017 edition of Art Dubai. This new, multimedia project was commissioned for Ayyam Gallery's booth as a two-part installation that will be shown for the first time.
In Seasons of Lost Baghdad, Alfraji's ongoing exploration of how memory and exile shape consciousness is demonstrated in painting, drawing, and video animation. Upon entering the booth, the viewer is met with In Search of Lost Baghdad (2017), a sweeping work composed of 209 etchings, measuring approximately 5 x 2.6 metres. A map of Baghdad fills the outline of a figure in profile (a self-portrait of the artist) that is depicted in mid flight. As he is suspended, his body appears fractured by this aerial view of the city. Surrounding the figure are the literary and colloquial names of the Iraqi capital in Arabic such as 'City of Peace' and 'The Victorious City.' These titles invoke its celebrated history. A stand-alone etching that lies outside the map contains nostalgic verses by an Iraqi poet. This detail anchors the work as a bittersweet view of the ancient metropolis from afar, as an exiled resident attempts to reconstruct it through memory.
A series of black and white drawings complements In Search of Lost Baghdad, and further explores the concept of nostalgic recollection. Each work on paper shows a solitary man beneath the canopy of a tree, standing beneath its branches, kneeling at its base, and so forth. Inspired by Baghdad's famous Abu Nuwas Street, a river front esplanade that is a popular gathering place for locals, these images portray Baghdad as it is experienced by its displaced.
In an adjacent darkroom, two black and white, side-by-side video animations form the title work of the exhibition: Seasons of Lost Baghdad (2017) describes the abject sense of dislocation that defines the daily experiences of migrants. As the figure turns in one work, unable to find a linear sense of direction, similar images of floating circles unfold in the accompanying animation. The discs are of various sizes; some are empty, alluding to a void, while others contain photographic images that create a sense of perpetual anxiety and confusion. The body and spheres seem to turn in unison, suggesting that, although Alfraji's protagonist may be physically disconnected from his homeland, he is caught in orbit around its decline.
Multimedia artist Sadik Kwaish Alfraji explores what he describes as 'the problem of existence' through drawings, paintings, video animations, art books, graphic art, and installations. The shadowy protagonist who occupies Alfraji's interdisciplinary works represents a black void, a filter that allows him to explore the precarious intricacies of modern life. By rendering his solitary figure as a charcoal-coloured silhouette and minimising the formal properties of his compositions, Alfraji captures the expressed movements and subtle inflections of the body in psychologically laden environments. The artist often records his own narrative in black and white depictions of this recurring character, particularly the loss, fragmentation, and lapses in time that underline exile.
Born in Baghdad, Iraq in 1960, Sadik Kwaish Alfraji lives and works in Amersfoort, Netherlands. He received a Bachelor of Fine Art in Painting and Plastic Art from the Academy of Fine Arts, Baghdad in 1987 and a High Diploma in Graphic Design from CHK Constantijn Huygens, Netherlands in 2000.
The artist's recent solo shows include Red Star Line Museum, Belgium (2016); Galerie Tanit, Munich (2016); Ayyam Gallery Beirut (2015); Ayyam Gallery Al Quoz, Dubai (2015); Beirut Exhibition Center (2014); Ayyam Gallery London (2015, 2013); Ayyam Gallery DIFC, Dubai (2011); Stads Gallery, Amersfoort, Netherlands (2010); Station Museum, Houston (2008); Stedelijk Museum, Den Bosch (2007). Selected group exhibitions include TRIO Biennial, Rio de Janeiro (2015); P21 Gallery, London (2015); the British Museum, London (2015); 56th Venice Biennale, Italy (2015); Abu Dhabi Festival, Abu Dhabi (2015); Maraya Art Centre, Sharjah (2015); LACMA, Los Angeles (2015); FotoFest Biennial, Houston (2014); Samsung Blue Square and Busan Museum of Art, South Korea (2014); Ikono On Air Festival, online and broadcasted (2013); Mori Art Museum, Tokyo (2012); Institut du Monde Arabe (2012); Centro Cultural General San Martin, Buenos Aires (2012); Museum of Modern and Contemporary Art, Algiers (2011); and Mathaf: Arab Museum of Modern Art, Qatar (2010).
Alfraji's works are housed in private and public collections including the British Museum, London; National Museum of Modern Art, Baghdad; The Art Center, Baghdad; National Gallery of Fine Arts Amman; Shoman Foundation, Amman; Royal Association of Fine Arts, Amman; Novosibirsk State Art Museum, Russia; and Cluj- Napoca Art Museum, Romania; Los Angeles Country Museum; and Museum of Fine Arts, Houston.
Alfraji was named Artist of the Year at the Esquire Middle East Awards in 2012. A monograph on the artist was published by Schilt Publishing, Amsterdam in 2015.
Exhibitions Dates: 15 - 18 March 2017
Opening times:
Wednesday, 15 March from 4.00 - 9.30 pm (invite only)
Thursday, 16 March from from 4.00 - 9.30 pm
Friday, 17 March from 2.00 - 9.30 pm
Saturday, 18 March from 12.00 - 6.30 pm
Location: Booth D9, Madinat Jumeriah
View Press Kit for hires artwork images and press releases in English and Arabic. For more information please contact press@ayyamgallery.com or +971 4 3236242.
Image: Installation view, Sadik Kwaish Alfraji, In Search of Lost Baghdad, 2017, etching on 209 A5 paper, Approx. 500 x 260 cm, Art Dubai 2017