DAMASCUS
Ammar al-Beik at the Museum Neukölln
Lost Images Berlin / Damaskus
14 January - 16 April 2017 | Berlin, Germany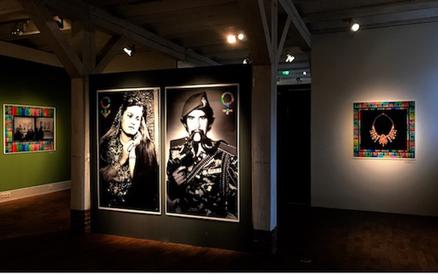 Ammar al-Beik's latest body of work is highlighted at the Museum Neukölln in Berlin, Germany in a solo exhibition that opens on 14 January. As a continuation of his Lost Images series, this new collection of photographs connects the experiences of German Jews during World War II and refugees currently displaced by the conflict in Syria. Drawing from the museum's historical photography collection, al-Beik contrasts his images with those of former Berlin residents, as he emphasises the fragility of life and the uncertain futures that often await vulnerable communities.
Al-Beik's Lost Images series is based on recovered photographs that he acquired from a Damascus flea market in the form of undeveloped rolls of film. Appropriating these images, al-Beik frames old studio portraits with pictures of ancient statues from the National Museum in Damascus, linking anonymous Syrians to imbued figures. In the latest installment of the series, he incorporates images of Hilde Heymann, a German woman who was forced to flee Berlin for the United States in the 1940s. These new works are paired with photographic compositions that show Berlin-based migrant Reem Karssli, who recently escaped the war in her native Syria.
Al-Beik will be in conversation at the museum with Dr. Lena Maculan, Lamis Sires, and Dr. Udo Gößwald on 18 February at 7 pm.
A catalogue of the exhibition is available here.
Image: Installation view, courtesy Museum Neukölln