MIGRATION STORIES
Exhibition tour with Farzad Kohan
23 November at 6.00 pm | Dubai (DIFC)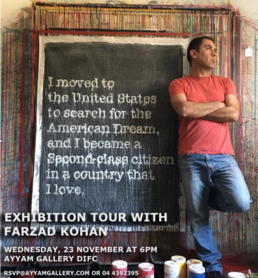 As a per of DIFC Art Nights, join us for an artist-led tour of Migration Stories, on Wednesday, 23 November at 6.00 pm.
In his latest body of work, Farzad Kohan records the experiences of migrants who have resettled in the United States or Europe, mostly from the Middle East. Detailing their stories with text-based paintings that are written in American typewriter font, the artist adopts the role of a documentarian. This is also suggested with the vertical folded canvases of the series, which recall letters or messages that are shared in secret or tucked away for safekeeping.
Read more
To register, please email RSVP@ayyamgallery.com or contact 044392395.