OTHER
Abu Dhabi Art 2016
16-19 November 2016 | Saadiyat Island, Abu Dhabi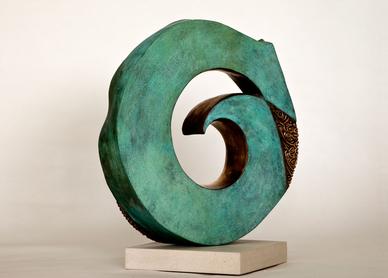 Ayyam Gallery is pleased to announce its participation in the 2016 edition of Abu Dhabi Art, one of the premier annual art events in Asia. With a diverse selection of recent works by some of the Middle East's foremost names in painting, sculpture, and installation, Ayyam Gallery offers a look at some of the latest trends in MENA art. Featured in this year's lineup are painter Safwan Dahoul, multidisciplinary artist Maysaloun Faraj, calligrapher Mohammad Bozorgi, and conceptualist Rashed Al Shashai.
Highlights of the booth include Safwan Dahoul's Dream paintings, a selection of works from the ongoing series that chronicles the transformation of a recurring heroine. Dahoul's austere compositions depict his female character in moments of solitude and despair, surrounded by the emptiness of a bare interior that appears to close in on her. Although part of a larger, ongoing narrative, Dahoul's paintings allude to the recent destruction of his native Syria.
Other featured works explore the spiritual realm of modern day life with references to Islam and its teachings. Maysaloun Faraj reimagines the tradition of Arabic calligraphy in regional visual culture while also seeking to defy the physical properties of her medium. Sacred written words describing the attributes of God appear suspended between two thin lines in Al-Rahman Al-Rahim (2010), for example. Executed in bronze, Faraj's sculptures seek to upend form as much as they aim to challenge aesthetic conventions.
Words are transformed into anthropomorphic imagery in the large-scale painting of Mohammad Bozorgi, as contrasts between negative and positive space give his composition a dynamic sense of movement. Bozorgi's sweeping work uses the principles of symmetry and mathematics that are found in Islamic art to create a new take on the calligraphic form. From the central point of the painting, an elaborate motif is rendered from an arabesque that is mirrored outwards, resulting in an explosion of patterns.
Complementing these examples is Rashed Al Shashai's Shortcut (2015)—an installation patterned after a symbol that the Prophet Mohammad drew in order to explain the meaning of loyalty and the value of integrity. The pictograph resembles an illuminated arrow, as though pointing to a path. Additional works by the emerging Saudi artist reveal the political undercurrents of conceptual art from the region, and how image-makers are using popular culture to engage viewers in critical questions about the future of Gulf society.