OTHER
Rashed Al Shashai in the United States
Aspen, 30 June - 1 Sept | San Francisco, 4 August - 8 Sept 2016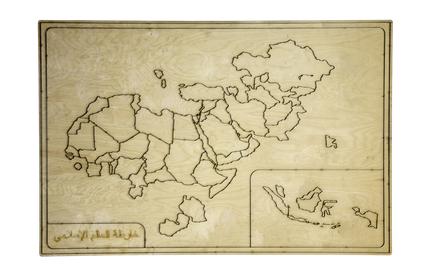 As part of a touring programme produced by Edge of Arabia's CULTURUNNERS, Rashed Al Shashai is featured in Gonzo Arabia, a multimedia show highlighting established and emerging artists from Saudi Arabia. The exhibition is in conjunction with the 2016 Aspen Ideas Festival, a platform for connecting international counterculture practitioners with the legacy of writer Hunter S. Thompson. Al Shashai is featured with The Islamic World (2015), a conceptual work depicting a map of the region outlined in black that has been placed on a cutting board.
Gonzo Arabia is on view from 30 June until 1 September.
Occurring in tandem is a collective exhibition of contemporary art from Saudi Arabia at The Minnesota Street Project in San Francisco, California. Al Shashai is represented with Delicious (2015), an installation composed of several Persian rugs that are rolled and sliced in the shape of a Swiss sweet. A staple of sociocultural exchanges across North Africa and the Middle East, and central to Islamic aesthetics, the cut-up rugs resemble familiar treats yet suggest an insidious phenomenon, reflecting the ongoing division of the region amidst overlapping political conflicts.
The exhibition will be held 4 August through 8 September.
This latest installment of CULTURUNNERS is supported by Saudi Aramco's King Abdulaziz Center for World Culture.
Artwork image:
Rashed Al Shashai
The Islamic World
2015
Paper cutter templates, component of wood and special knifes and papers
89 x 130 cm
Edition of 8