OTHER
Sama Alshaibi: Silsila at the Scottsdale Museum of Contemporary Art
4 June – 18 September 2016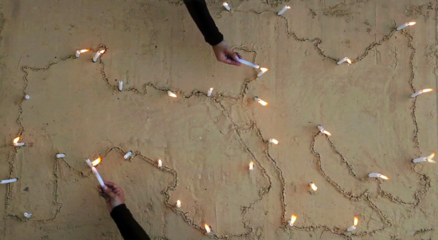 Sama Alshaibi's critically acclaimed multimedia project Silsila (2009-2016) will be shown in its entirety for the first time at the Scottsdale Museum of Contemporary Art (SMoCA) in Arizona this summer.
Opening 4 June, Sama Alshaibi: Silsila is organised by Claire Carter, SMoCA curator of contemporary art, as part of the museum's ongoing southwestNet series, which showcases mid-career artists who are based throughout the United States-Mexico border region.
The exhibition serves as the US debut of the series and features video installations and photographs. Silsila was previously shown as part of the Maldives pavilion at the 55th Venice Biennale and in solo exhibitions at Ayyam Gallery London and Dubai. This multifaceted body of work uses the travelogue genre as a means of identifying the cultural continuity of North Africa and the Middle East while referencing the ecological crises that have led to recent mass migration and forced displacement across the region.