OTHER
Photo London 2016
19-22 May 2016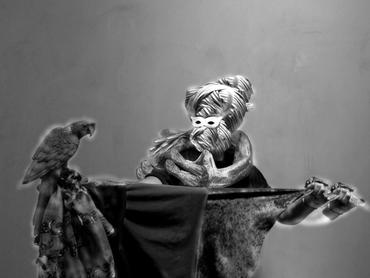 Ayyam Gallery is pleased to announce its participation in the 2016 edition of Photo London. Returning to the fair with a selection of photographs from Faisal Samra's Distorted Reality series (2005-2011), the gallery's contribution highlights how photography is becoming increasingly multidisciplinary as its forms are challenged by the advent of technology.
In his ongoing investigation of visual culture, Samra uses digital photography to scrutinise the dominance of mediated images that overwhelms and distorts twenty-first century life. The Distorted Reality series—a groundbreaking project incorporating video, performance, and photography—depicts how today's endless flow of mass media destabilises our perception of reality. For the artist, this negatively reshapes individual identities, as the self is caught in a bombardment of images that leaves little room for reflection or resistance.
The photographic component of the series is numbered chronologically and organised as 'performances' in which the artist is hidden beneath elaborate headdresses and masks, making recognition of the figure difficult. Although performance is at the centre of the work, implying a transformative process, videos and photographs of his unscripted acts are essential to the series as formal components of a larger conceptual framework.
Performance #13 (2007), for example, captures a sequence of violent gestures while evoking early historical experiments in moving images, as a scene appears to progress across several frames. The triptych also brings to mind man's enduring attempts to mediate the present by constantly defining space and time. As Samra rapidly twists a textile containing illegible Arabic writing, the implied violence of his performance signals the assault on the self that occurs in the context of our plugged-in world; yet the artist is shown rebelling against this psychological onslaught in each photograph.