MADINAT JUMEIRAH
Ayyam Gallery at Art Dubai 2016
16-19 March 2016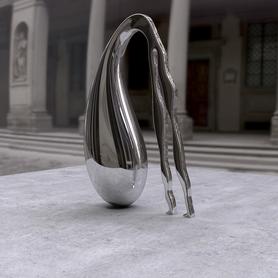 Ayyam Gallery is pleased to announce its participation in the 2016 edition of Art Dubai. In addition to returning to the fair's contemporary section, Ayyam Gallery presents a curated exhibition in the selected focus on seminal twentieth-century art, Art Dubai Modern.
Nadim Karam and Faisal Samra—two of the Arab world's foremost innovators—are featured in Ayyam Gallery's contemporary art booth, highlighting some of the cutting-edge work that has come from the region in recent years.
Karam debuts new futuristic sculptures that depict the release of creative energy that occurs when pent up silence manifests as an audible shout, a scream stemming from the depths of being. Also addressing the universal theme of transcendence, Samra's 2008 video installation Surviving II describes the contemplative state of sleep in which the mind recalls the experiences of daily life, and the act of rising becomes a means to resist the immeasurable weight of existence.
For Art Dubai Modern, the gallery has organised a two-person exhibition that spotlights significant developments in abstraction of the Levant. As modern art in the Arab world peaked between the 1960s and 80s, painters Samia Halaby (b. 1936, Palestine) and Moustafa Fathi (b. 1942, d. 2008, Syria) sought to expand their individual approaches to abstraction by drawing from the historical legacy of regional visual culture, particularly Islamic art and the geometric abstraction of ancient forms. In doing so, they identified how abstraction can depict elements of reality while also advocating a look at form as a reflection of sociotechnological development, leading to distinctive, influential aesthetics.
Ayyam Gallery's Art Dubai Modern booth highlights the formal inquiries and experiments that distinguish this early period of Halaby's career while identifying overlapping concepts in the 1980s works of Fathi, who combined printmaking techniques, artisan craftsmanship, and ancient symbols in his paintings.