OTHER
Tammam Azzam, Ammar Abd Rabbo and Huda Beydoun at Banksy's 'Dismaland'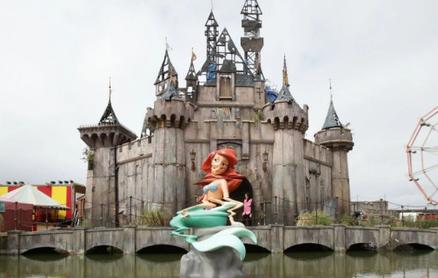 Tammam Azzam, Ammar Abd Rabbo and Huda Beydoun will be part of Banksy's latest pop-up festival Dismaland, to open on 21 August in Weston-super-Mare, United Kingdom.
Taking over an abandoned leisure facility that closed its doors in 2000, Banksy's cynical twist on Disney's amusement parks, where the highlight is a fire-ravaged fairytale castle, brings together 46 other international artists by the likes of Damien Hirst, Jenny Holzer, and Ben Long.
Tammam Azzam is featured with Freedom Graffiti, a digital work in which he superimposes Gustav Klimt's The Kiss on a Syrian war-torn building. Fellow Syrian practioner, Ammar Abd Rabbo is presented with Into the Wild— a photograph that measures the extent of the destruction in Aleppo all while highlighting the artist's visual storytelling abilities. Saudi artist Huda Beydoun, she takes part in Dismaland with four digital pieces from her Documenting the Undocumented series, in which a recurring Minnie Mouse figure is used to link pop culture, graffiti, and social issues.