OTHER
Khaled Jarrar
That Thou Canst Not Stir a Flower Without Troubling of a Star
28 May - 11 July 2015 | Art Bärtschi & Cie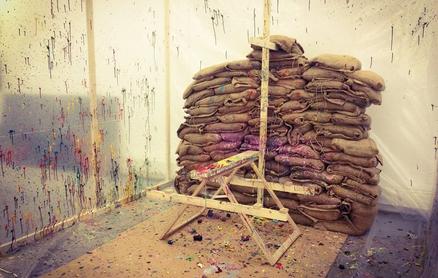 Khaled Jarrar's exhibition That Thou Canst Not Stir a Flower Without Troubling of a Star, opened at Art Bärtschi & Cie in Geneva on 28 May and will be running through 11 July.
Borrowing its title from the verses of Francis Thompson's poem The Mistress of Vision, the exhibition concerns itself with the interconnections extant in the natural world and by extension, the causality of human actions.
One of the exhibition's highlights—the Ice Helmet, presents an ice sculpture of a military headgear placed inside a wall-integrated refrigerator and stands as a proof of Jarrar's constantly innovative practice. Through a strong symbolic of war and a declination of media, from sculpture to installation to performative interventions, Jarrar creates a visual narrative of the conflictual situation ceaselessly unraveling in his native Palestine, and its impacts on everyday life.