DUBAI
The Elephants Trio at Jumeirah Emirates Towers, Dubai
March 2015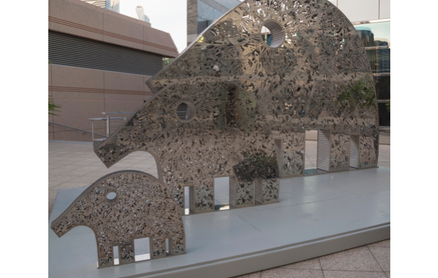 Jumeirah Emirates Towers, in partnership with Ayyam Gallery, has installed Nadim Karam's iconic sculptures, The Elephants Trio, outside the main entrance of the hotel tower Dubai, UAE.
Laser-cut from stainless steel, the sculptures increase in size from 0.70m to 1.5m to 3m - the largest equaling in scale a fully grown elephant. The perforated surfaces are constituted from a rich vocabulary of forms which create a fragmentation of ideas and generate a multiplicity of stories, with over 500 stainless steel tubes joining the two sides of the largest elephant.
The elephants' features underscore the way in which Karam's sculptural forms defy the fanatic connotation of symbols – particularly coming from this region of the world. The super shiny finish invokes an aura of lightness, capturing the surroundings of the observer in each elephant. Together the three sculptures share this aura and create various spatial interactions infiltrating their presence upon the viewer.
Growing from the eye of each elephant are stories found within the perforations. The content of these stories and the meaning behind the sculptures is open for interpretation, to be determined by the viewer - their thoughts, experiences and emotions, evoking memories within.