OTHER
Ayyam Gallery at Art Dubai 2015
18-21 March 2015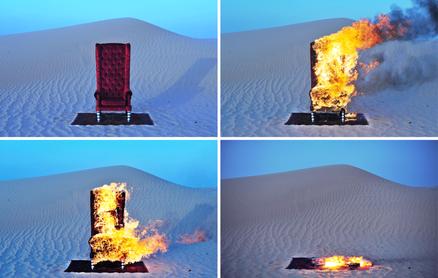 Ayyam Gallery is pleased to announce its participation in this year's Art Dubai from 18 until 21 March. Returning to the region's leading art fair with recent examples by Nadim Karam, Faisal Samra, Safwan Dahoul, Sama Alshaibi, Kais Salman, Mouteea Murad, Athier Mousawi, and Alireza Fani, the gallery's curated selection will spotlight artworks that either consider the precarity of the present, on both micro and macro levels, or offer bold visions for the future.
Nadim Karam's multimedia sculptures, what he refers to as 'urban toys,' represent a groundbreaking proposal for reimagining the evolution of cities with mythical creatures that ignite the imagination. The otherworldly characters and rotund animals appear to glide past the viewer; their bodies fashioned with soft contours reminiscent of rising waves, creating a sense of upward and forward motion. Karam's freestanding works are part of a larger interventionist project that has been transforming urban spaces since the early 1990s, most recently in Amman, Jordan and Shanghai, China.
Safwan Dahoul will debut large-scale paintings that indicate a new phase of his ongoing Dream series (1987-present), as he introduces enigmatic settings blanketed in white. Dahoul's earlier works were frequently rendered with the dark, shadowy environments of interior spaces that seem to enclose his withdrawn heroine and match her monochrome tones as an extension of an all-consuming mournful state. By realising his compositions with an emphasis on the ethereal qualities of light, Dahoul adds a new layer of meaning to recognisable subject matter.
Digital archival prints from Sama Alshaibi's Silsila (2009-present), an ongoing multimedia project, will offer a sneak peak of the artist's recently released monograph Sand Rushes In, which is edited by curator Isabella Ellaheh Hughes and published by Aperture Foundation, a prestigious international photography organisation. The photographic works show the artist in sweeping landscapes as she retraces the path of fourteenth-century Moroccan explorer Ibn Battuta, evoking his documentation of the cultural lineage that runs through North Africa, West Asia, and South Asia, particularly in the desert and water areas home to nomadic peoples for centuries. Alshaibi's series reconsiders natural environments that are linked in a broader socio-historical narrative but threatened by various political forces, and draws attention to the potential loss of ancient cultural facets as the Bedouin traditions of the region are placed at risk.
An invitation-only book launch with Sama Alshaibi will be held on Friday, 21 March from 4:30 to 5:30pm at Julius Baer Lounge in Mina A'Salam.
About Ayyam Gallery
Founded in Damascus in 2006, Ayyam Gallery is recognised as a leading cultural voice in the region, representing a roster of Middle Eastern artists with an international profile and museum presence. Spaces in Beirut, Dubai, and London have further succeeded in showcasing the work of Middle Eastern artists with the aim of educating a wider audience about the art of this significant region.
Exhibition Facts
Exhibition Dates: 18 – 20 March 2015
Opening Night Premiere: Wednesday, 18 March 4-9:30pm (invite only)
Location: Madinat Arena, Dubai
Booth: J-27, Johara Ballroom
For more information on the included artists visit: www.ayyamgallery.com.
For press information and artwork images, please contact press@ayyamgallery.com or +971 4 3236242.