OTHER
Rashed Al Shashai
The Armory Show 2015
5 - 8 March 2015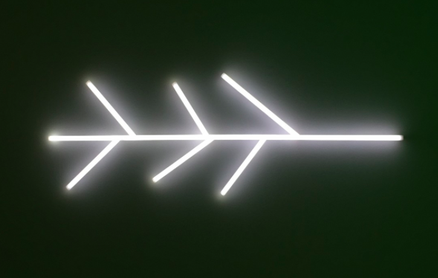 Saudi artist and educator Rashed Al Shashai will participate in The Armory Show's Focus: MENAM section curated by Omar Kholeif this March.
Known for his humorist depictions of issues he witnesses in his native Saudi Arabia and more widely in the Middle East, Al Shashai will be featured with two of his most recent works. Shortcut is a light installation, in which the artist highlights a straight line as the path to integrity. In The Islamic World, Al Shashai shares his vision of Islamic countries as one borderless union, governed by common interests.
The multimedia creations of Al Shashai will appear at the Edge Of Arabia booth along the works of Yazan Khalili, Oraib Toukan, and Mounir Fatmi, as part of a thought-provoking presentation that highlights the multiple, often opposing opinions of the Middle East when it comes to its visual culture.
The Armory Show takes place from 5-8 March in New York City.