LOS ANGELES
LA Art Show 2015
Booth 512/611
15 – 18 January 2015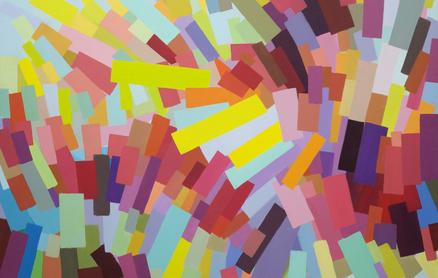 Ayyam Gallery is pleased to announce its participation in the 2015 edition of the LA Art Show. With a curated selection of contemporary painting and photography from the Arab world and Iran, Ayyam Gallery's participation will serve as its West Coast debut, offering audiences a rare opportunity to encounter a roster of artists who are not only breaking ground in the Middle East but are also internationally active. Recent works by Samia Halaby, Safwan Dahoul, Thaier Helal, Sadik Alfraji, Farzad Kohan, Afshin Pirhashemi, Athier, and Alireza Fani will be highlighted.
This year's installment of the LA Art Show marks its twentieth anniversary with a wide range of American and international galleries. Over the last two decades, the art fair has become a mainstay of the North American art scene, hosting over one hundred galleries from more than twenty countries last year. In past editions, the annual event has spotlighted modern masterpieces, historical examples, and cutting-edge works, and continues to expand its platform, notably with the largest meeting of Asian galleries outside the region in recent years.
Ayyam Gallery's contribution to the LA Art Show seeks to add to this growing global profile with works by eight artists who are leading regional experiments in their respective media; serving as a preview of the gallery's stable, emerging painters and photographers will be shown alongside established figures. The works of Samia Halaby and Thaier Helal, for example, reveal current trends in abstract painting, as both artists are recognized as innovators in their field. Halaby is long considered a pioneer of abstraction in the Middle East, while also having remained in step with developments in the United States as the first fulltime female associate professor at the Yale School of Art from 1972 to 1982. Similarly, Helal's career has traversed the spectrum of the Arab world's art movements, as he remains influential in the Syrian art scene while maintaining a similar ranking in the United Arab Emirates, where he has lived, taught, and worked since the late 1990s.
The works of Safwan Dahoul and Sadik Alfraji display the highly reflective approaches to figurative painting that have defined several art schools since the modernist period, notably among Syrian and Iraqi artists—who stem from rich traditions of expressionism and symbolism. Dahoul and Alfraji belong to the same generation, although each began their careers in Damascus and Baghdad respectively, and are considered among the region's foremost artists now working in exile. Both artists utilize recurring protagonists as symbolic apertures to the subconscious weight that results from forced displacement or the sense of alienation formed in precarious political contexts. Through methodical readings of the body in isolation, Dahoul and Alfraji capture different views of a distinctly modern phenomenon.
Artists Farzad Kohan, Afshin Pirhashemi, Athier Mousawi, and Alireza Fani also demonstrate how contemporary art from the Middle East and its diaspora is currently entering uncharted territory as previous approaches to form and representation are increasingly challenged. Whether through figuration or abstraction; realist, metaphysical, or surrealist portraiture; or hardedge or color field painting, today's artists are rapidly redefining visual culture.