LONDON
Shurooq Amin in conversation with Khaled Samawi and Anthony Downey
Ayyam Gallery London
Wednesday, 12 November at 7 pm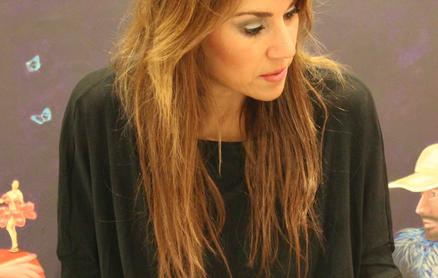 Ayyam Gallery London presents Shurooq Amin in conversation with Ayyam Gallery founder Khaled Samawi, and Anthony Downey, contemporary art scholar and Editor in Chief of Ibraaz, on Wednesday, 12 November at 7:00 pm.
The talk will be held ahead of the artist's exhibition, We'll Build This City on Art and Love, opening on Thursday, 13 November.
In We'll Build This City on Art and Love the artist employs materials as diverse as wood, reclaimed photographs, and Braille. Such formal accents are utilised with reference to individual histories while engaging tactile possibilities, and are brought together to expand Amin's chosen themes. Literary figures long admired by Amin, including Syrian poet Nizar Qabbani and British author Lewis Carroll, are among several influences that can be found in the visual motifs of her whimsical yet challenging works.