SOUTH KOREA
Contemporary Arab Art featured in "Fluid Forms II"
Samsung Blue Square & Busan Museum of Art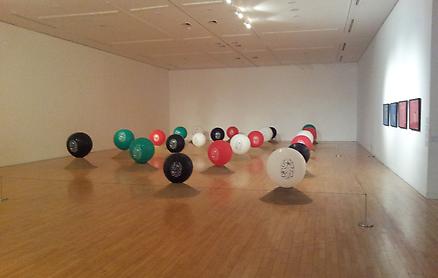 Ayyam Gallery is pleased to announce 38 works by 13 of its artists will be featured alongside other prominent Arab artists Fluid Forms II, a traveling exhibition focusing on Contemporary Arab Art at Samsung Blue Square in Seoul from 21 May - 31 May, and the Busan Museum of Art in South Korea from 5 June - 4 July.
Directed by internationally-renowned independent curator Yu Yeon Kim, in association with the Korea-Arab Society, Fluid Forms II will introduce South Korea to the varied talents, perspectives and diversity of media presently produced throughout the Middle East and the Diaspora.
The featured artists are Abdulnasser Gharem, Faisal Samra, Safwan Dahoul, Sadik Alfraji, Thaier Helal, Khaled Jarrar, Sama Alshaibi, Ammar Al Beik, Tammam Azzam, Athier, Oussama Diab, Abdul Karim Majdal Al-Beik and Walid El Masri.
Mrs. Yu Yeon Kim, based in Seoul and New York, has acted as Curator of the Gwangju, Liverpool, and Johannesburg Biennales and organised exhibitions in Cuba, Mexico, South Korea, Germany, the United Kingdom and the United States, at such prestigious institutions as the Tate Modern and the Guggenheim. Fluid Forms II will be the second exhibition of Contemporary Arab Art organised in South Korea.