DUBAI-DIFC

Shurooq Amin

We'll Build This City on Art and Love

14 September - 23 October 2014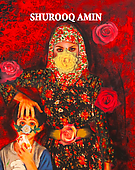 With contributions by writers Maymanah Farhat and Zarmina Rafi, this monograph explores the intricacies of Amin's decades-long career through comparative discussions of her works within the broader milieus of international art and literature. Also included is an autobiographical account of the artist's life, which offers an intimate view of her creative development. Featuring over eighty colour reproductions, ranging from her early experiments with a combined approach to portraiture to her recent cutting-edge compositions, Shurooq Amin traces the evolution of the artist's celebrated oeuvre.